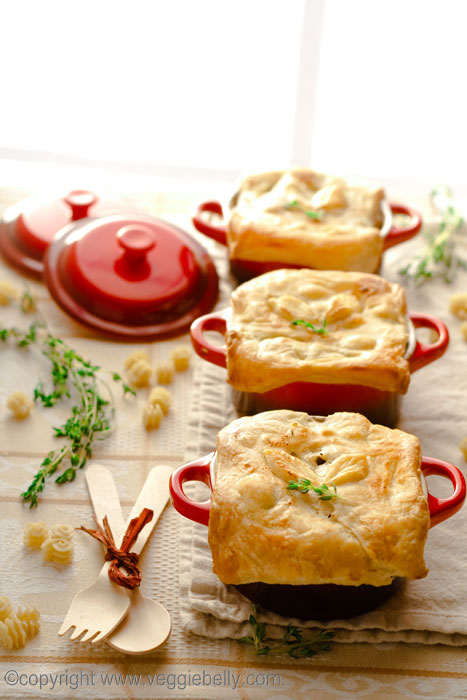 Serves 4
Ingredients:
1 (8oz) sheet thawed frozen puff pastry
2 tbsp unsalted butter
1 large leek, halved lengthwise and thinly sliced
4 carrots, halved lengthwise and thinly sliced
3/4 lb cremini mushrooms, quartered
3 tbsp all purpose flour
1 1/4 cups low-sodium vegetable or mushroom broth
2/3 cup frozen peas
2 1/2 tsp dijon mustard
1/2 tsp fine sea salt
1/2 tsp ground black pepper
1/4 tsp ground nutmeg
1 egg beaten with 2 tsp water
To make top crusts for the pies, place pastry on a parchment-paper-lined baking sheet. Place a ramekin on pastry and trace around it with a knife; repeat until you have 4 circles. Save pastry scraps for another use. Poke circles all over with a fork and refrigerate on the baking sheet.
Preheat the oven to 400. Melt butter over medium heat in a large saucepan. Add leek and carrots; cook, stirring frequently, 5 mins. Add mushrooms and continue to cook until they are softened, about 8 minutes. Sprinkle flour over vegetables and cook, stirring 1 minute. Slowly stir in broth. Stir in peas, mustard, salt, pepper, and nutmeg. Cook until thickened, 3 to 4 minutes. Pour into the ramekins and cover tops with prepared pastry circles. Brush pastry lightly with egg and place the ramekins on a baking sheet to catch drips. Bake until pastry is very browned and filling is bubbling, about 25 minutes. Cool at least 10 minutes before serving.
YOU WILL NOT BE DISAPPOINTED.